January 16-Feb 3, 2020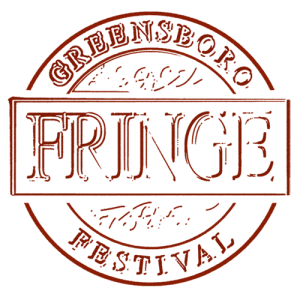 APPLICATION FORM (PDF download)
Applications accepted July 1 – September 6, 2019
Instructions:
(click here to download instructions in PDF format)
1. Please download this form, fill out the application, and submit it with all other application materials to: gsofringefest@gmail.com
All application materials must be RECEIVED by September 6, 2019.
2. PLEASE UNDERSTAND: If accepted, Greensboro Fringe Festival will provide your show with a venue, publicity, and ticket sales. We will NOT "produce" your show; we will "present" it. This means you are responsible for your own casting, rehearsals, load-in, load-out, Tech and design, etc.
3. WE ACCEPT ONLY ORIGINAL MATERIAL THAT HAS NOT BEEN PREVIOUSLY PERFORMED IN NORTH CAROLINA. Exceptions may be made if the submission would undergo significant re-work for the GSO Fringe. We cannot pay royalties or other fees associated with published work. If your show does not fit neatly into a genre below, feel free to email individual questions to gsofringefest@gmail.com. You may also contact a Greensboro Fringe Festival representative by calling 336-549-7431.
4. There is no fee to apply or participate in the Greensboro Fringe Festival. We only require that you acknowledge that your performance was presented as part of the Greensboro Fringe Festival in all future performances, and in all future marketing materials, printed or electronic, when possible, of submitted piece.
Please assemble the following materials in addition to your application form and send in ONE e-mail labeled with the name of the piece or artist submitting. Applications separated into multiple pieces will not be accepted. Applications that do not have all the required materials (Script, video etc.) will not be accepted.
THEATRE:
1 copy of play, in standard playscript format
If your piece is based in improvisation or some other unscripted framework,
please include a detailed description of any plot, characters, imagery, etc. What
qualifies your piece as dramatically active and interesting?
Resume of director or primary contact
Video or DVD link of piece to be performed, or a representative work sample, is
not mandatory, but highly encouraged.
Production history and any pertinent press regarding the piece
DANCE:
Web based link of piece is mandatory. If not yet performed, please record a
rehearsal sample.
Resume of choreographer or primary contact
Production history and any pertinent press regarding the piece
Please note that we are encouraging collaboration with composers and musicians. Applicants that have original music will be preferred.
MUSIC:
You Tube link or other web based link of performance/recording.
Resume of musician, band or primary contact.
Video or DVD link of a live performance is not mandatory, but highly
encouraged.
History and any pertinent press regarding the group
MULTIMEDIA / NONTRADITIONAL PIECES:
All scripted material associated with the piece
Detailed description of the piece, if no script
Samples of visual material and/or music associated with the piece
Video of piece (or representative work) is not mandatory, but highly encouraged.
A Web Based link is acceptable.
Production history and any pertinent press regarding the piece
4. Applicants will be notified of acceptance by or around October 4, 2019. Alternates will also be notified at this time. We will contact you via E- mail and/or phone. Please be sure that your contact information is current. If you move after you submit your application, it is your responsibility to update your information with Fringe.
Alternates will be notified of acceptance before October 11, 2019, but must understand that the turn-around time for submitting required materials will be very quick. GSOFringeFest will communicate with Alternates on a case-by-case basis.
The Greensboro Fringe Festival must receive all press and related materials from participating groups by November 1, 2019.
5. The 18th Annual Greensboro Fringe Festival will accept all applications. Preference will be given to North Carolina and surrounding area participants. We do not provide housing for visiting groups.
6. Greensboro Fringe Festival will not return any application materials to individual applicants.
7. NOTICE: All shows to be produced at the Stephen D Hyers Theater will be required to be Suggested Donation shows. We have found that donations provide a larger audience and the income is close to ticketed income.